Bocas Del Toro in Panama is surrounded by hundreds of little islands just begging to be explored! There's no better way than to head out on the Zapatillo island-hopping tour. We had nearly a full day of beautiful island views on the water with many stops and snorkeling along the way!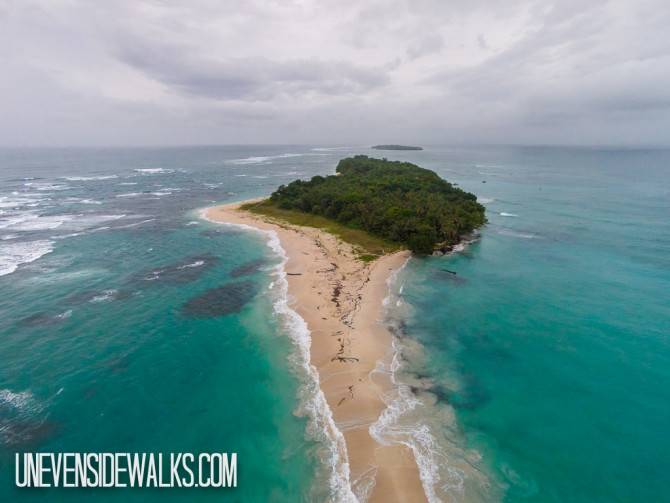 It had been raining for several days so we were pretty excited to see that it had stopped for a bit! It must have known we were headed out for a fun day! Even with cloudy weather the islands were dazzling and the water was crystal clear. Don't let a cloud spoil your fun!
Zapatillo Island Aerial Video
Here's a sneak peek of what you can expect on the tour. We enjoyed this beautiful tour with the Gambit Tour Company, located in the heart of Bocas Del Toro city. We had a fabulous day! 
First Stop – Dolphin Bay
We saw so many dolphins swimming around in this beautiful bay! It's the perfect calm sanctuary for them because it is surrounded by hundreds of mangrove estuaries where they can hide and raise their young.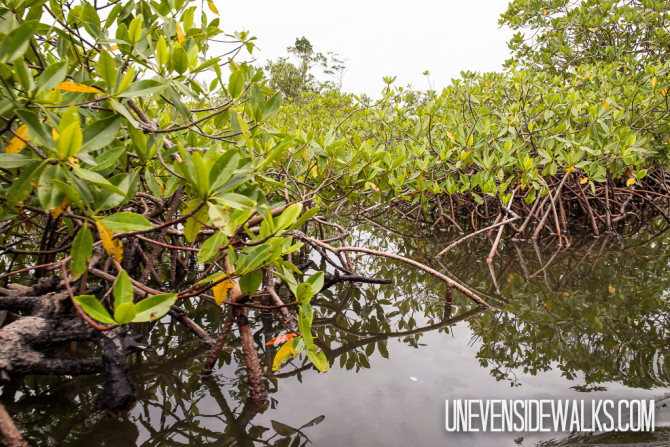 We saw them as they were heading out to the open waters to hunt for their daily meal. Our tour guide told us each dolphin eats 40 pounds of fish a day! We felt lucky because our guide really took time to get us some close-up views of the dolphins! Plenty of time to get the perfect picture!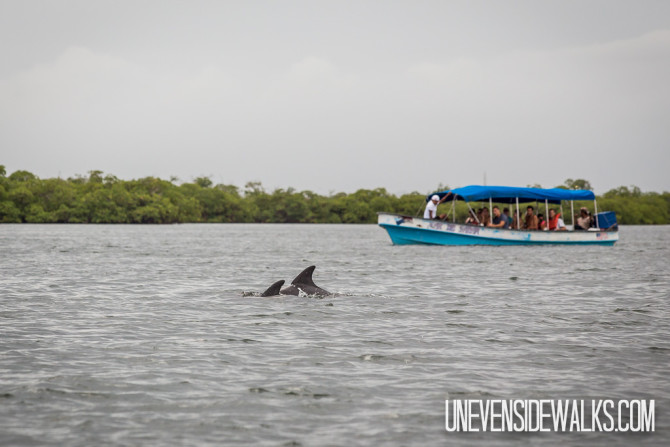 Zapatillo Island – Bocas del Toro, Panama
This island makes you feel like you are on a movie set. It makes you want to pinch yourself, it's so beautiful!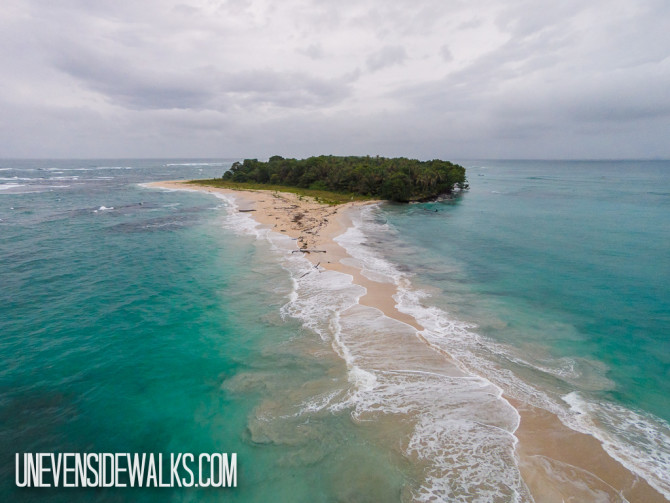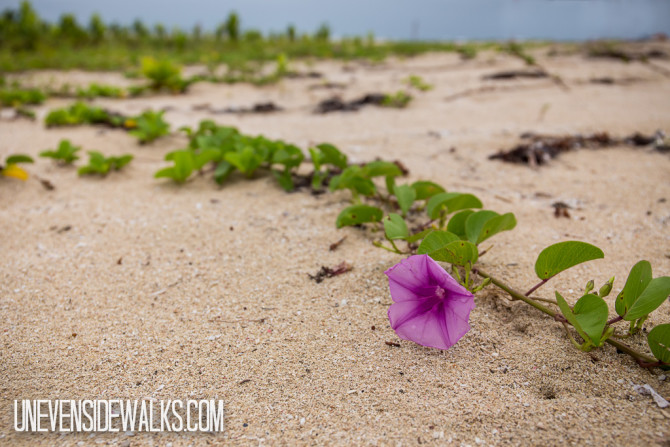 Our boat dropped us off at the island so we could walk around it and explore by ourselves for a few hours. It was a bit tricky to get off the boat though because there is no dock. We got soaked! Good thing our cameras didn't!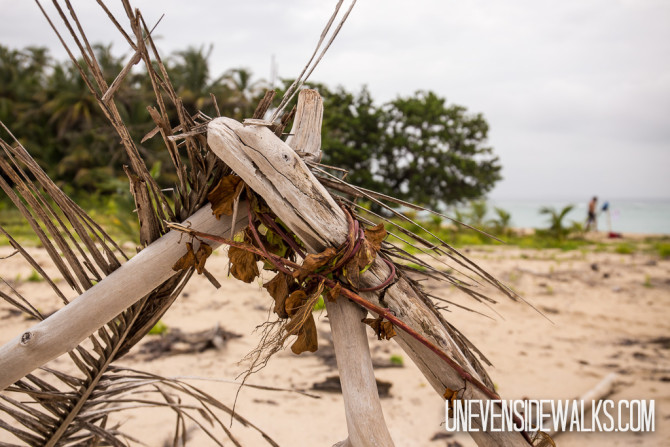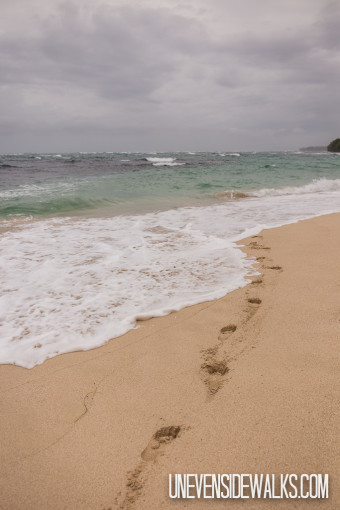 We took our time walking around the island, taking aerial pictures, swimming, and frolicking in the water! We were having so much fun we lost track of time and were the last ones back to the boat. We had a breathless run back and were glad to find they hadn't left us!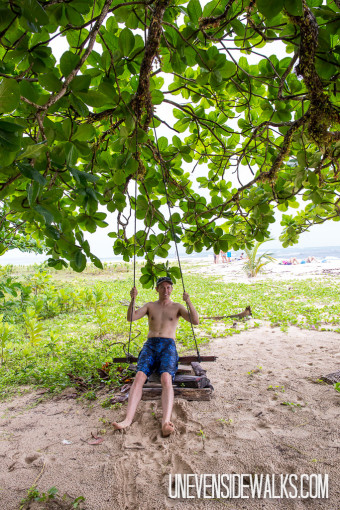 Maybe it was the love note Alyssa wrote me that made us late… I had to take a picture from the air to see what it said :)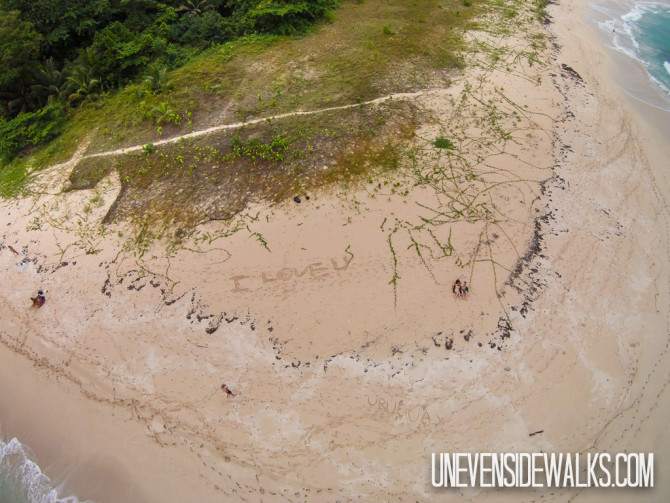 *Note – We wished we would have known you could bring drinks/snacks/towels to the island to hang out. The water is deep when you exit the boat, so make sure to have all your electronics in waterproof bags and your dry clothes above your head before getting in. We got our only set of clothes soaking wet :( Don't be rushed!
Snorkeling On the Reef
Under the sea I feel at home. I just love the flying feeling when I'm under the water and can move around like a seal. Alyssa is pretty nervous in the ocean but she was enjoying herself so much this trip, I had to drag her out!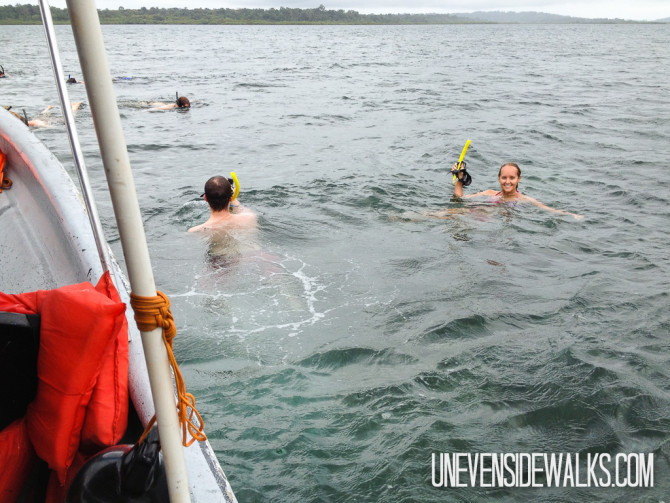 The snorkeling was incredible. Hands down, one of the prettiest places we have snorkeled. The coral was just bursting with color and full of life! There were brightly colored and zebra-striped fish swimming by. I liked to swim down closer to the coral to watch the little crabs and shrimps scampering around. We wished we had a little more time snorkeling, too beautiful!
Lunch With a Sparkling View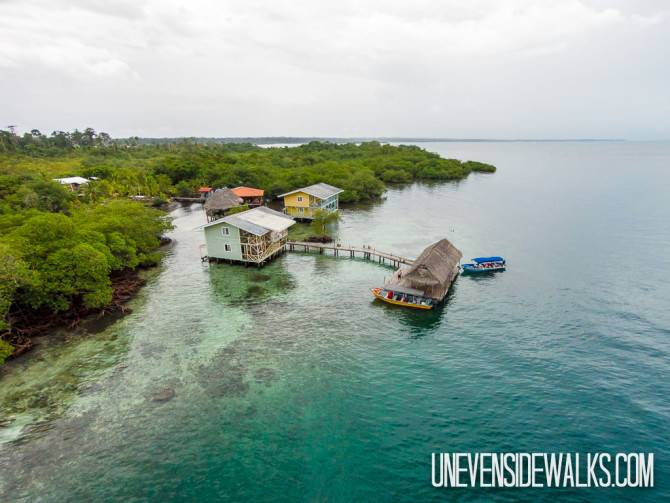 We stopped at this restaurant out in the middle of nowhere and had a delicious lunch. We ordered a very yummy shrimp pasta and later enjoyed the super clear waters surrounding the deck. There were even hammocks to kick back in!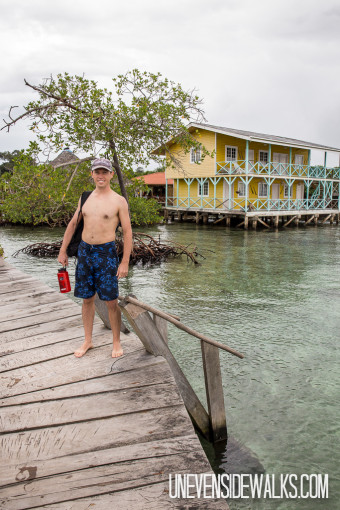 Some people were snorkeling and I was capturing it from the air from my quadcopter. Aerial pictures were an obvious must at this place! The beauty shined through even though it was overcast.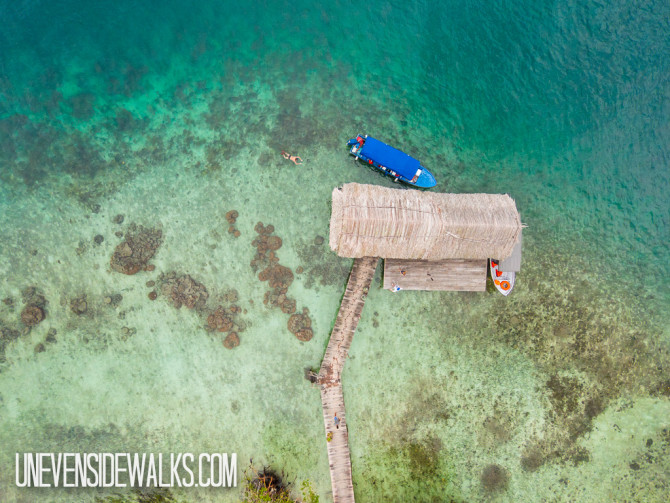 Sloth Island
One of the manzanillo islands in the estuaries had hundreds of sloths living on it. They had their own little sanctuary. Our boat went right up to the edge of the island where we saw tons of sloths.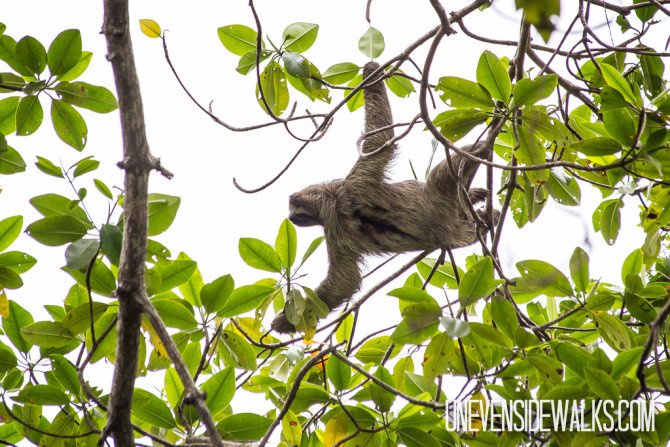 At one place we could see 6 sloths at the same time. We even were lucky enough to see a mother sloth with her baby! Very fun to see sloths in the wild!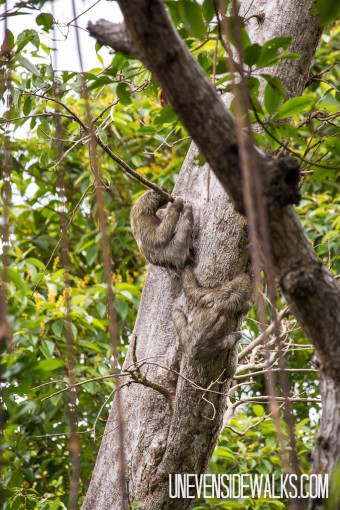 Hollywood Beach
Stars on the beach, get it? I didn't at first, haha! Super clear water with gold and red starfish. Stunning!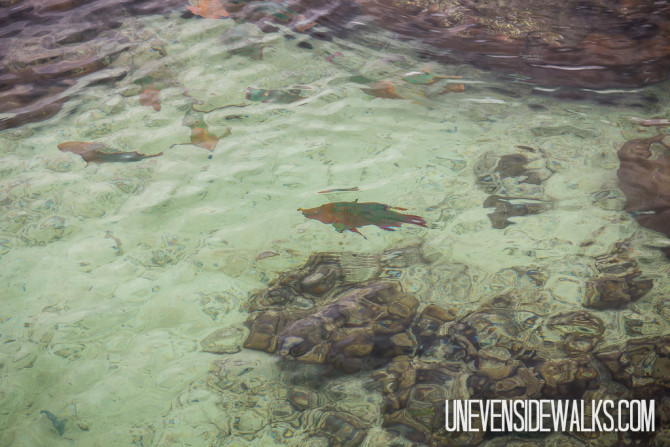 This beach was very shallow so our boat was able to just float over the top. We had great views over the edge of our boat. It was fascinating to see the starfish paired up. The colors were an amazing contrast against the white sand!
What a day! We were lucky it didn't rain very much. Even on a cloudy day, this tour was beautiful.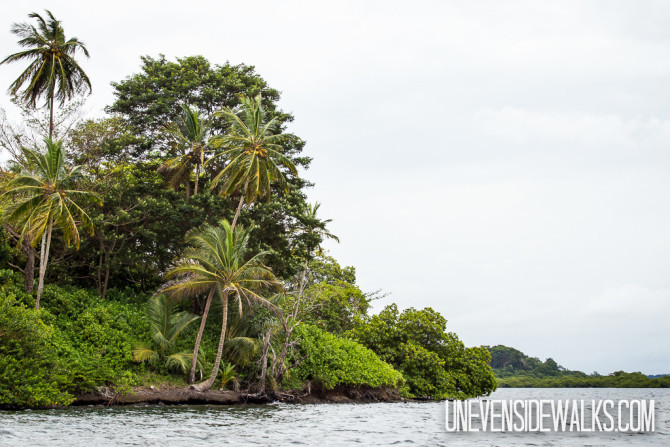 Don't be fooled by the overcast days, we got so sunburned! Lather up, even on cloudy days! 
Special thanks to Gambit Tours for a great island tour in Bocas del Toro, Panama! As always, all thoughts and opinions are our own.