There are so many beautiful things to see in Costa Rica, one week is not nearly enough time to experience it all! We're here to help you plan it right with this one week travel itinerary for Costa Rica so you can make the most of your time!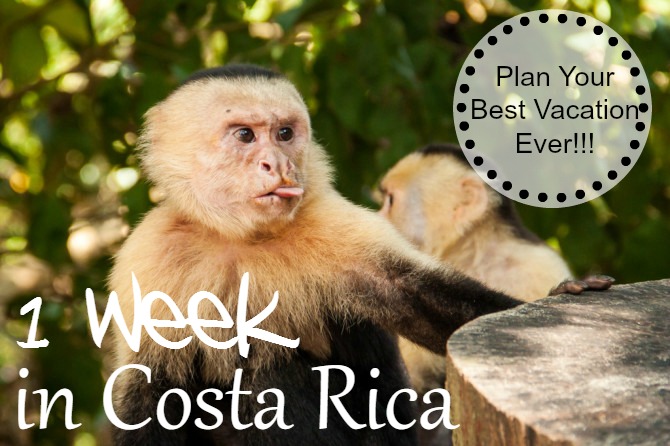 Instead of spending all day driving to see the whole country, we feel it's much better to spend the day at a few places and enjoy your time there. Let's get planning!
Day 1. San Jose
Many people just head straight to the beach and don't take the time to check out San Jose. It's a fun busy city with lots to see. It's a great experience to jump right into the local culture! It can be busy, so take a minute to pop into a café and have a cup of coffee and watch the crowds at a distance.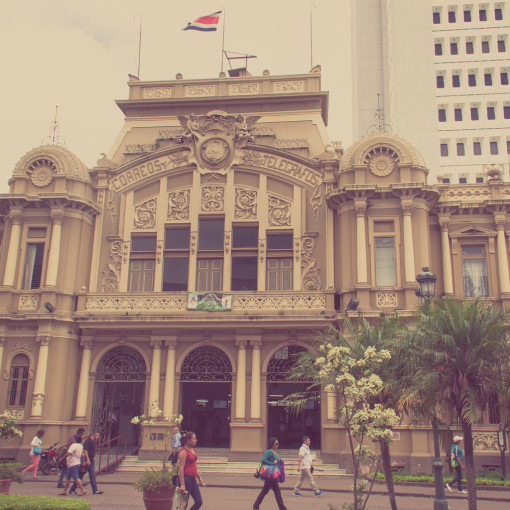 You'll see plenty by just wandering around downtown, but don't miss the Mueso de Oro (Gold Museum) on Avenida Central and Calle 5 as well as the Museo de Jade (Jade Museum) on Avenida Central and Calle 13. Be sure to stop by the Central Market at Avenida Central & Calle 8 (Central Ave. & 8th Street) and the fruit stands on the sidewalks all over the place. There's a huge city park with ponds and paddle boats you can rent on Avenide Central and Calle 42.
The Backpacker's Hostel (on Avenida 6 & between Calle 21 and 25A) has a really nice atmosphere and even sports a swimming pool. You can also find a Holiday Inn and a few other mid-range options close to the Jade Museum and around the city.
Quick note about the street numbers in San Jose – The streets are odd-numbered on one side of Avenida Central (and also Calle Central) and even on the other side. Calle 8 & 13 aren't 5 blocks apart, but rather 11! You'll see when you get there!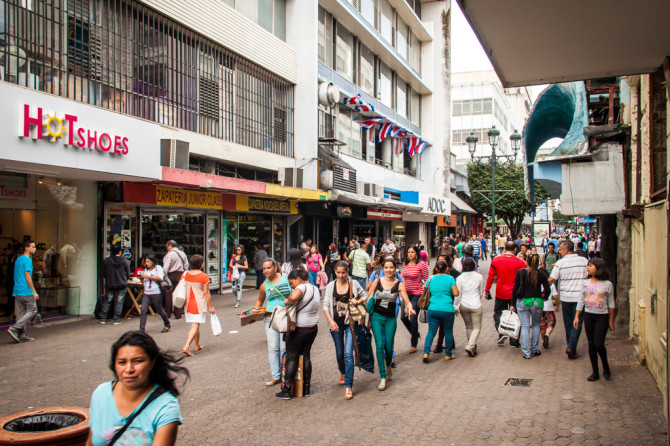 Stay alert! Just like all places you travel, be careful with your personal belongings. Be aware of what is in your pockets and don't overly flaunt your things. Always keep a hand or an eye on your bags at all times. We have never been robbed in San Jose, but we hear some people tend to have "sticky fingers." Here are some tips for hiding your money.
Day 2. Poás Volcano/La Paz Waterfalls
From the San Jose area, get an early morning start out to the Poás Volcano. The clouds come in around mid-morning so the earlier the better. It's a pretty route with rolling hills of green vegetation, one of our favorite drives! At the volcano, there is a great view of the crater and the lagoon inside, as well as miles of trails.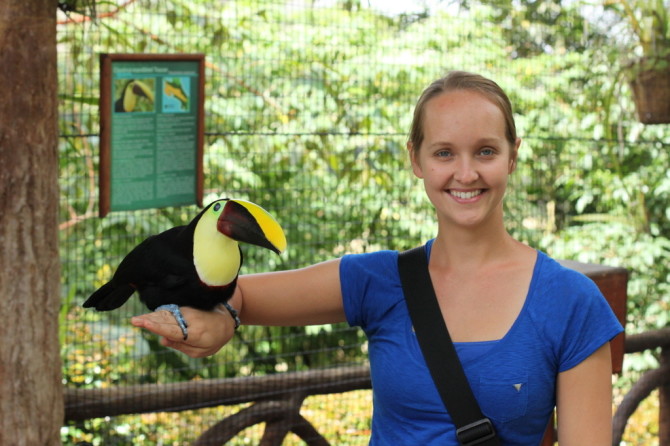 From Poás head just down the road to La Paz (The Peace) Waterfalls. The main attractions are 5 beautiful waterfalls as well as many animals and birds in a private zoo! It's one of the highlights we tell everyone we meet to go see. If you want close ups with Costa Rica wildlife, this is a must! The butterfly and hummingbird exhibits are amazing!
There is a lot to see at La Paz Waterfalls, so it'll take a good portion of your day. Don't forget to get a picture holding the toucans! There are plenty hotels within 10 miles of the Waterfalls so you should be able to find a place for the night, or you could head back to San Jose.
Optional detour: If you are more interested in seeing the coffee side of Costa Rica, stop by the Britt Coffee Company on the way in Heredia for a tour of their plantation and roasting process! It is a very nice tour!
Day 3. Manuel Antonio National Park
From La Paz Waterfalls, head to Manuel Antonio (about a 3-4 hour drive by car). Spend the rest of the day enjoying the warm ocean water and drinking a cold coconut under an umbrella on the beach. The ocean is always beautiful and there's plenty to explore around the area.
There are many places that rent surfboards and offer surf lessons. Some rent jetskis and will take you parasailing. Plenty of people are eager to sell souvenirs if you need a few for your family back home. Head into Quepos if you want to check out the town or need a few groceries or an ATM.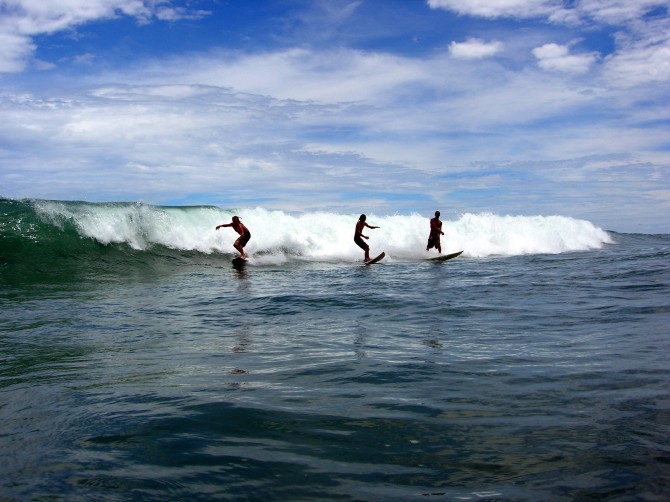 This area offers many popular tours nearby for zip lining, kayaking, snorkeling, horseback riding, and fishing. Most companies offer transportation included with the tour. You could easily spend a few days enjoying the activities in Manuel Antonio.
We enjoy staying at Hotel Verde Mar when we visit because it is right on the beach and within walking distance to the Manuel Antonio Park! Some of the rooms have kitchenettes so you can cook up your own supper, or there's a great-tasting restaurant there too. There are surfboards for rent close-by as well as our favorite restaurant down by the sand! It's amazing at sunset! The setting is perfect to have dinner right on the beach!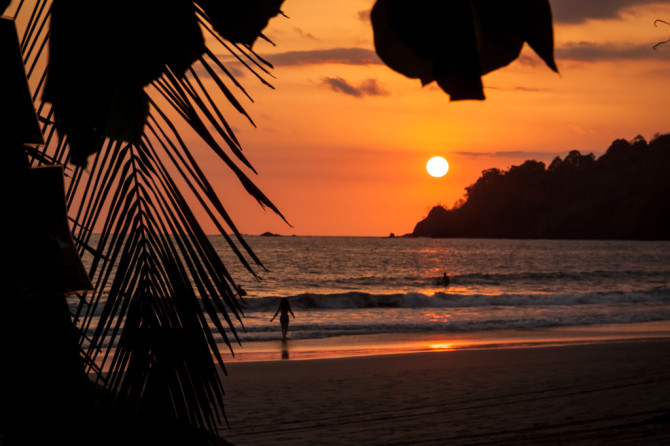 Day 4. Manuel Antonio National Park
Get an early start to beat the crowds at Manuel Antonio National Park as well as get a better view of the animals who are active early in the morning. There is always a crowd of local guides at the entrance offering tours with big telescopes but in our opinion it isn't worth it. If you really enjoy nature and want to learn about the animals, then it's a good idea. Either way, once you get to the beach inside the park, there are tons of monkeys around for you to get snap happy with your camera!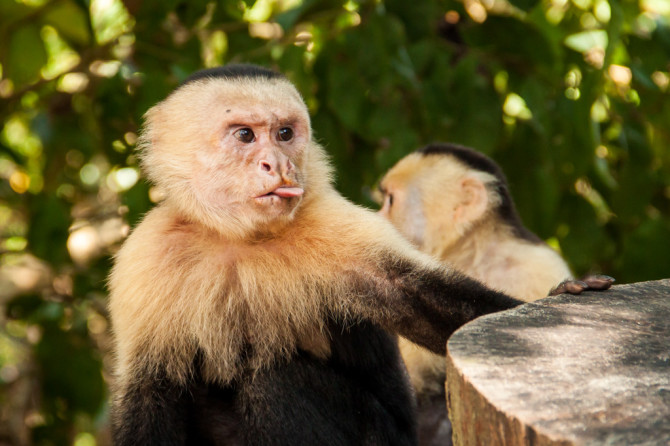 It's best to hike the trails in the morning before the sun heats everything up too much. Take lots of water with you because it's usually hot and humid. Don't forget to bring a lunch and a beach towel because the cove is the perfect place to have a picnic, explore the tide pools, and snorkel in water. It's great for families because it's really calm! Watch out for those sneaky monkeys because they want your lunch more than you do and will grab it when you're not looking!
Day 5. Playa Uvita & Marino Ballena National Park
From Manuel Antonio head to Playa Uvita (about 1 hour and a half by car). The crowds are thin, the waters are crystal clear, and you can find some of the most beautiful beach views Costa Rica has to offer! This National Park is often described as one of the most biologically diverse areas in the world! There are many trails in the tropical rainforest that bring you close to nature. It's a great place to get to see the breathtaking beaches without the crowds and truly enjoy Costa Rica!
The clear waters are ideal for snorkeling and scuba diving. Boat tours of the nearby Caños Island are popular too. Sport fishing tours are available, but book ahead to be sure there's a boat scheduled for when you arrive.
Be sure to visit the popular sandbar called the Whale's Tail. At low tide it resembles the tail of a huge whale. Coincidentally, this park is known for the great views of the Humpback Whales as they migrate (Dec.-April). Also check out the amazing sea caves near Playa Ventana. Kayaking to the caves is a great way to get up-close to nature! Don't miss the sunset on the beach!
Day 6. Jacó, a Surfer's Paradise
To break up the drive back to San Jose, stop off at Jacó and get your fill of surfing before heading home. There are many places to rent boards and take lessons. Be cautious in the water when the surf is high! There are lots of cute shops down the main road if you need to grab any last minute souvenirs. If you have extra time, there are many tours in town for horseback riding, zip lines, kayaking, and fishing.
Day 7. Over so Soon!?
Time to head back to San Jose to catch your flight back home. Don't forget to stop at the bridge near Tárcoles, just outside Jacó, to see the herd of alligators waiting for the next tourist to fall off the bridge. Seriously, there are alligators there!
By now you have enjoyed a few of the amazing highlights of Costa Rica that we have come to love! There is a push for "green tourism" here, so hopefully it is just as beautiful when you return to visit the next time!
Be sure to keep $28 USD per person to pay the departure tax at the airport when flying out. Check this page for anything else you might need at customs.
Getting Around – A few Tips on Cars and Navigation
Since you're probably pressed for time with only a week, we recommend renting a car or hiring a shuttle between the towns. We always take the bus because we're on a tight budget, not a vacation, but in order to see all you would like, it is much easier to have a car.
We've used a place called VIP Car Rental Tours a few times, and always get friendly service and a great price. They speak English as well as Spanish, and a little French. They are based out of Liberia, but deliver cars to San Jose all the time. Tell them Landon at Uneven Sidewalks sent you!
Some of the best shuttle companies we've heard of are Greyline and Interbus. You can reserve your shuttle ahead of time, and they can usually pick you up at your hotel. If you can't plan that far ahead, don't worry, your hotel should be able to arrange one for you. Don't be afraid to negotiate the price with your hotel!
Once you have a set of wheels picked out, be sure you can find your way around.
Map: We've used this map since we got here and it's been great! It has a map of both the whole country and also detail insets for the popular cities. Best of all, it is waterproof, which is almost more important here than what's printed on it, haha!
GPS: If you're a iPhone GPS guru, check out the Pocket Earth app for the iPhone. We've used it for many countries in Central and South America and love it! You can save the detailed map of the country on your phone before leaving and you'll never need to use your phone data or wi-fi the whole trip. A similar app for Android is called Locus Map.
Leave a comment below to let us know how your trip was! We would love to hear about your experiences in Costa Rica!