Chile was the start of our trip around South America – a real jumping-off point into the unknown for us. How did we plan for it? Months and months of researching and making reservations?
Nope. We arrived with a map that had a line drawn on it in marker. It started in Santiago Chile, headed down to the tip of South America, and then back up to Peru. That's it. We like our trip planning to be simple and spontaneous.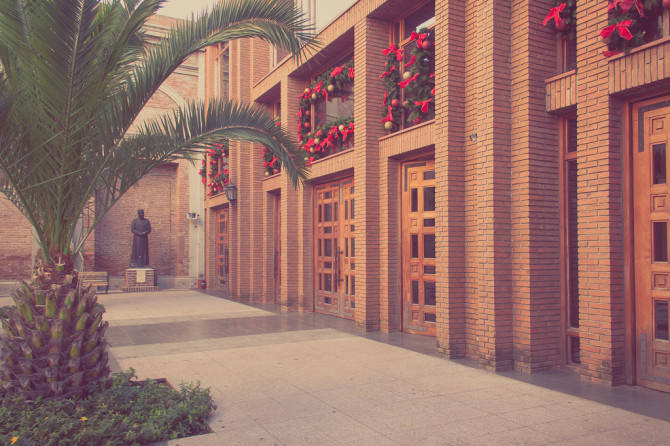 In this guide we'll tell you why we chose each place to visit and what we learned that we can share with our readers. Check out the Chile Photo Gallery here.
Read here about what we packed in our backpacks.
Our Chile Itinerary:
Our 4 week route in Chile started near the middle, in Santiago, and we headed south, planning to make a loop back to the north through Argentina to avoid backtracking. We knew we were missing some neat things in northern Chile, but we learned early on that we wouldn't be able to see everything! We are happy with our decision and feel like there was plenty to experience in central and southern Chile on this trip.
This map shows the exact route we ended up taking – perfect for planning YOUR trip!

(You can zoom in on the map and move it around with your mouse)
Santiago surprised us with its dryness from the moment we left the airport. Maybe this is because we were coming from humid Costa Rica! However, it turned out to be a surprisingly fun city with lots to see and do, and plenty of places for shopping! We had a blast there, really enjoyed our first hostel experience of this trip and made some great friends!

We realized that we were probably one of the few Americans traveling in South America. This shouldn't have been surprising since the majority of all vacations in the US are to Hawaii or Europe. We met so many friendly Australians and Europeans which really added to our experience. So fun!
Read more about Santiago here.
Viña del Mar
Just a short trip to the north of Santiago is a really popular tourist town called Viña del Mar. We would have liked to check it out, but we heard Patagonia calling us from the south. Definitely check it out and let us know how it is :) We have heard it is really fun!
Santiago to Rancagua
We took the train from Santiago to Rancagua looking for a mine and hot springs we had read about. We spent a few hours asking the locals about the mine and looked for a place to stay, but couldn't find either. We figured there were better places down the road to spend our time rather than keep looking for this mine nobody had heard of, so we hopped back on a bus and headed to Curicó. They did have some really nice cheesy empanadas – they are yummmmyy! P.S. The train station is a few miles from the bus station…
Curicó was a really cute tight-knit town with little streets filled with stores. We were there around Christmas time so there were a lot of activities going on including a street market. The people are really friendly and we felt safe the whole time.
Hostel note: We did not find a hostel here, only hotels and had to settle for one that cost $60 a night :( That's the only downside to this town. We looked online as well and had no luck – there might be some in the suburbs or in Molina that we overlooked…
We almost messed up and stayed at a "sketchy" hotel since it was a little cheaper than the other places we had seen. Keep your ear out for comments like "it's pretty busy here" and "Vas a quedar un ratito?" – "Are you going to stay for only a little while?" All night is not a little while – make sure it is a 24 HOUR hotel!!
It is absolutely worth coming here to see the town and to see the Waterfalls nearby, which we highly recommend. Read about our hitchhiking adventure to see the Siete Tazas Waterfalls.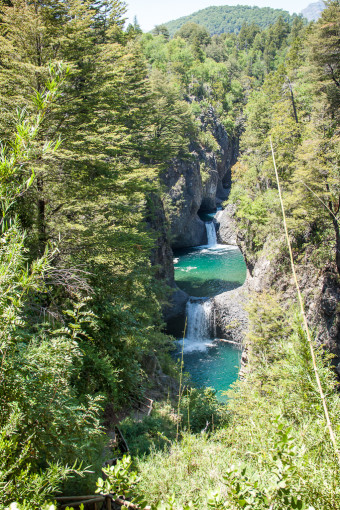 Concepción
We were in Concepción visiting some friends so we didn't get to tour around the city too much. It was a nice place to visit, or as a stopover point before heading down to the coast. It is closer to the beach than the other towns we were in so it had the nice feel of a beach town! It has a really large urban town with lots of universities, in case you are looking to study there. Concepción was hit pretty bad with a big earthquake in 2010 so a few places are still recovering from that. Chile has quite a few earthquakes and tsunamis so watch out!
Lota
Next, we headed south on the bus to see the coal mines in Lota right next to the ocean. Lonely Planet had a good article about the mine saying the tour train went under the ocean, so we decided to check it out. When we arrived, we found the train portion of the tour was closed. They don't operate the train anymore because the mine isn't active. We got stuck with a group of 10 year olds on a school field trip, so the mine tour wasn´t much to write home about. However, the ticket includes a museum and a huge park that was really beautiful! We enjoyed our time there because of the amazing views!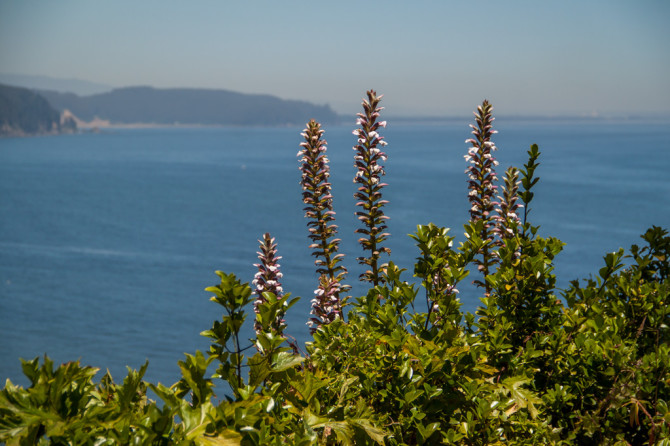 Parque Nahuelbuta and Parque Conguillío are a must to see! It's so beautiful to see the snow covered volcanos and shimmering lakes! There are lots of different hiking trails and roads to drive around and explore. There is also a nice tourist information center that is available to everyone.
Up until now, we had been fine traveling only on buses and trains. But, these parks and many others would be quite difficult to see using only public transportation, maybe impossible. We were glad to find some friends who were visiting these parks, so it was ideal for us!
For budget travelers a rental car is a hard pill to swallow but check the seasonal prices and seriously consider it for a localized area. It all depends on the time of year and the amount of time you have to travel!
Read more about the Nahuelbuta and Conguillío National Parks here.
Villarica
On our way from Conguillío National Park, we stayed one night in Cunco (small town) before heading to Villarica. The snow topped volcano overlooking the lake and this city is incredible. This is a perfect place to relax with some laid-back time, although hiking the volcano is a must! Make sure to take a toboggan tour down the snow topped volcano! This is an active volcano so it's impressive to see the smoke coming out of the top!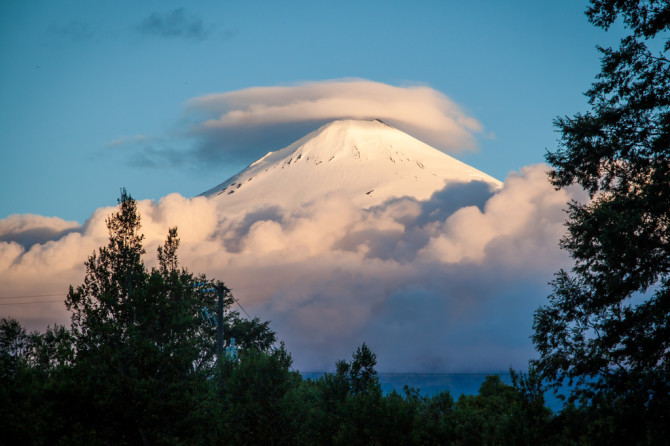 Pucón
A little down the road from Villarica, Pucón is a popular tourist destination and here you will find lakeside hotels and mountains of tourists. We just went for the day, but there are lots of water activities to do. The lakes in this area are really amazing!
Osorno
From Pucón we made our way south to Osorno. This is a popular border-crossing town, although it is a few hours yet to the border. We planned to cross the border here because our ultimate goal was Punta Arenas in Chile. We found that the most direct way down to the tip of Chile was to cross into Argentina via bus from Osorno. It is difficult to take a direct route in Chile because the lake region in Chile makes the travel slow and unpredictable.
So, as much as we really wanted to go to Puerto Montt and the lake region, we decided to cross over in Osorno and head south. If you have a chance to go there, let us know how it is! We have to keep telling ourselves, we can't do everything, as hard as it is.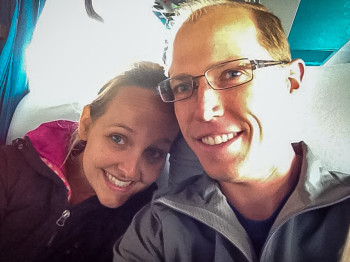 The bus ride from Osorno to Punta Arenas is a long one, 28hrs! Many choose to fly, however, this particular bus ride was the favorite of our whole trip. The bus goes right through the Andes as well as part of the Lake District, just stunning! There was so much to see that the bus ride went quickly!
Punta Arenas
Punta Arenas is cold. cold. cold. Brrr… And windy. Welcome to Patagonia! We did a day trip to Isla de Magdalena to see the penguins. They are really fun to watch! Another one of our highlights :) It is like a photo shoot just for penguins! It is a really fun to see them swimming and catching their fish and all the families huddled together in their dens. The babies are so fuzzy! It´s windy, but such a fun trip!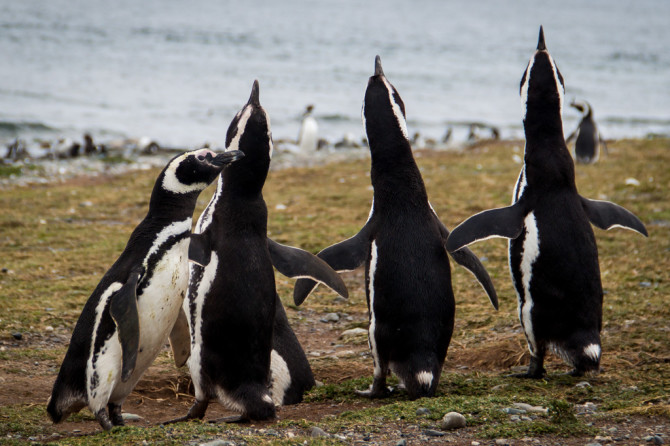 The next leg of our trip was Punta Arenas to Puerto Natales, and we were excited because we decided to hike the "W" at Torres del Paine National Park. We didn't know about this park when we started our trip, and were doubtful it was worth the time, but it was the highlight of our entire trip!
Trust me, you simply can not visit South America without hiking at the Torres del Paine!
Read all about our Torres del Paine hike here.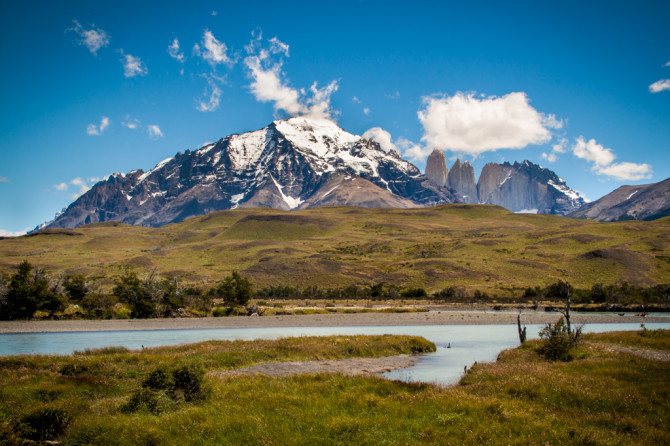 So That's Our 4 Week Itinerary for Chile
We went out with a bang and loved everything we saw in Chile! It´s a beautiful country!
Of course, as with anything there are always things you learn after the fact or those "Duh" moments when you realize you could have done something better or that made more sense. We of course had quite a few of those. We hope you can learn from our mistakes or at least be prepared for some blips in traveling!
Our Travel Hiccups in Chile
1. We flew directly into Santiago which was our first mistake. If we would have flown into Argentina, and then bused over to Santiago, we could have saved ourselves the reciprocity fee that Chileans charge Americans for entering the country. They only charge it to people when they FLY into the country. We could have saved $360!! We heard that they may no longer be charging the fee at all, so it may not be an issue but we were kicking ourselves for not learning that before we booked our tickets.
Lesson learned — Always look at neighboring countries as a way to get around fees. Also look at regulations between airport entry and bus/land entry into a country.
Also read our detailed post on all the borders we crossed.
2. We were so disappointed that we didn't plan to travel with our camping gear. We should have researched a little more than we did and realized that Chile is all about the amazing camping. We love to camp so we were totally bummed. It was nice were were able to rent camping gear for Torres Del Paine. However, for all you campers out there, just bring your gear. I know it really weighs things down but there are some incredible camping places in Chile. You can even mail it home or sell it there!
Lesson Learned – Take your camping gear!
3. We didn't get enough US dollars in Chile to take to Argentina. Argentina can be a cheap place to travel if you are prepared with US dollars to exchange. We had almost enough but in the end we had to take a few hits on the bad exchange rate to get some money to cross into Bolivia.
Lesson Learned – Make sure to get plenty of dollars to take with to Argentina and don't fall for the "good" rate on a credit/debit card transaction!
4. Plan more time. I guess that's the wish of all travelers. We had 4 weeks so we were enjoying going along with the flow, but wished we would have had more time to go north and see northern Chile. It might be on the itinerary for our next trip!
Lesson Learned – check out the northern parts of Chile.
Have you had a chance to visit Chile or really want to go? Share your stories of traveling in Chile or the route you took!
Return to South America Itinerary